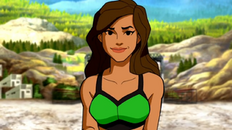 April Jeanette "AJ" Brooks[4] (née Mendez; born March 19, 1987), better known by the ring name AJ Lee, is an American retiredprofessional wrestler. She is best known for her time in WWE.
Brooks began her professional wrestling career on the New Jersey independent circuit in 2007, where she performed as Miss April, notably in Women Superstars Uncensored. She signed with WWE in 2009 and spent two years in its developmental system, Florida Championship Wrestling, before she was called up to the main roster. Meanwhile, she took part in season three of NXT in 2010 and placed third in the competition.
In 2012, Brooks rose to prominence through several storylines, such as relationships with wrestlers who feuded over WWE's world championships, along with a three-month stint as the General Manager of Raw. In subsequent years, she won the Divas Championship a record-tying three times. She also won the Diva of the Year Slammy Award twice (2012 and 2014), and was votedPro Wrestling Illustrated's Woman of the Year for an unprecedented three consecutive years (2012–2014). She retired from in-ring competition in 2015.
Screenshots