As with several action figures from the TMNT toy line, Ace Duck eventually made it into the classic cartoon series. Unlike the other characters in supporting roles, however, Ace Duck's appearance in the series was incredibly brief. In the third-season episode "Attack of Big MACC", Leonardo, Raphael, and Michelangelo were watching an Ace Duck film festival on television. Ace can be seen on the Turtles' TV screen in close-up, cackling in a manner highly reminiscent of Donald Duck, but his cameo is brief, lasting only seconds before Donatello changes the program.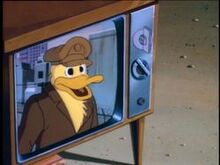 Community content is available under
CC-BY-SA
unless otherwise noted.