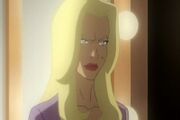 Aimee Brenner is the daughter of the famous Hollywood icon, Foster Brenner. She was never used to act in any of his films and carried on a romantic flirtation with Los Angeles Police Department Detective Jim Corrigan. With the corruption of fame and fortune pressing on her, Brenner came up with a scheme to kill her own father and use the inheritance money to leave the state for good. She supplied the Brenner estate's security codes to Drew Flynn and Peter McCoy, two former long-time collaborators of Foster Brenner. In exchange for killing him, the two would receive a large payoff.
Brenner's plan would have succeeded if she had not called in Corrigan for support. She was unaware he was the Spectre. After executing Flynn and McCoy, Corrigan realized Brenner's involvement. She tried to convince Corrigan to join her and start a new life together. When he refused, she tried to shoot him only to discover his secret. The Spectre then summoned a suitcase of money into a vortex and cut Brenner up until she bled to death. The LAPD soon arrived to find her body.
Screenshots
Community content is available under
CC-BY-SA
unless otherwise noted.