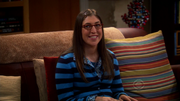 Dr. 
Amy Farrah Fowler
, Ph.D., is a neurobiologist, whom Rajand Howard discovered as a possible match for Sheldonthrough an Online dating service (without Sheldon's knowledge). Amy is from Glendale, California, as revealed by Sheldon in "The Weekend Vortex". She studied at Harvard University (revealed in "The Scavenger Vortex", S7E03), and had a semester in Norway. She also has a doctorate degree in neurobiology ("The Roommate Transmogrification", S4E24). By Sheldon's own admission, she is most like him by any standard. Like him, she has previously avoided relationships (whether romantic or otherwise is entirely unclear), and only participated in online dating herself to fulfill an agreement with her mother that she dates someone at least once a year so she can continue to have access to her mother's George Foreman grill. She has her own apartmentin Glendale, California. She also has a five-year plan to become Mrs. Cooper which appears to be working through the eighth season due to them discussing a future and having children together. By the ninth season, Amy wants to take a breather from their relationship and naive Sheldon pushes her so she breaks up with him. Later on in the season, however, the two reconcile and resume their relationship.
Community content is available under
CC-BY-SA
unless otherwise noted.