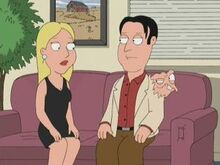 Andy García (born April 12, 1956) is an American actor. He became known in the late 1980s and 1990s, having appeared in several successful Hollywood films, including The Godfather: Part III, The Untouchables and When a Man Loves a Woman. More recently, he has starred in Ocean's Eleven and its sequels, Ocean's Twelve and Ocean's Thirteen.
"Peter's Daughter" sees him on a date that is interrupted by his conjoined twin, Rick.
Garcia is voiced by Alec Sulkin. Rick is voiced by Seth MacFarlane.