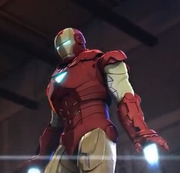 Write the first paragraph of your page here.
Paraphernalia
Equipment
Iron Man Armor
Arc Reactor
Computer
Missiles
My Iron Man Armor can survive the Electromagnetic Fields for about 30 Seconds
Transportation
Notes
This version of Iron Man is voiced by Adrian Pasdar in the Iron Man portion of the Marvel Anime series, and by Matthew Mercer in Iron Man: Rise of Technovore. His Japanese voice actor in both is Keiji Fujiwara. Iron Man is set to appear in the upcoming Avengers Confidential: Black Widow & Punisher, although no voice actor for the character has been announced.
 
Trivia
This version mimic his movie counterpart up to seemingly the second Iron Man movie, at which point the two diverge.
Iron Man Armor Screenshots