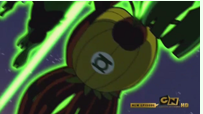 Apros is originally from the planet -7Pi and resembles a pumpkin with tendrils. Apros communicates with psionic powers, that is, by projecting thoughts onto other people's minds. Despite appearances, this Green Lantern of Space Sector 003 is a member of the Corps' elite Honor Guard and along with K'ryssma and Tomar-Re, the three were chosen by their overseers, the Guardians of the Universe, as the most revered Green Lanterns of their time. Apros also serves as a recruiter and trainer of new Green Lanterns.
Powers and Abilities
Power Ring: has no powers; his Green Lantern Power Ring can accomplish anything his imagination can conceive.
Appearance
Day of the Dark Knight!
The Eyes of Despero!
Revenge of the Reach!
Siege of Starro, Part One!
Siege of Starro, Part Two!
Community content is available under
CC-BY-SA
unless otherwise noted.