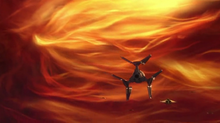 The Archeon Nebula was a nebula in the Lothal sector of the Outer Rim Territories that the Archeon pass passed through. In 2 BBY, the rebellion launched a mission to bring Mon Mothma to Dantooine that passed through the nebula. The Archeon Nebula was a stellar nursery that was the breeding ground for new stars.[1]
Community content is available under
CC-BY-SA
unless otherwise noted.