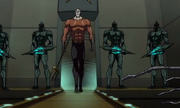 He is King of Atlantis. 
TV Tropes
Evil Overlord: Flashpoint Aquaman acts in this way.
Fantastic Racism: Both Flashpoint Aquaman and Wonder Woman show absolute disdain by everyone who isn't Atlantean or Amazon.
If I Can't Have You: Flashpoint Wonder Woman is implied to be trying this through the war since Aquaman rejected her once she killed his wife.
Between the forces of Flashpoint Aquaman, we can see Aqualad/Kaldur'ahm, Tempest/Garth and Aquagirl/Tula, even with the same basic designs and weapons of Young Justice.
Aquaman losing his right arm.
Enemies
Write the second section of your page here.