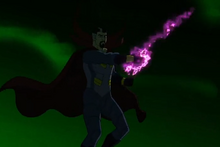 I summon the Blade of Balthakk.
History
Balthakk was one of the eight mystical deities who entered into the Octessence pact. His Brazier of Balthakk was used to empowered Samantha McGee as his avatar, Inferno.[1][2]
Powers and Abilities
Powers
Avatar: Inferno (Sam McGee) (see Exemplars)
Manifestation of Deity Power: Energy, especially heat and light based blasts.
Spells Invoking Balthakk: (Baleful) Bolts of Balthakk
Paraphernalia
Equipment
Brazier of Balthakk
Community content is available under
CC-BY-SA
unless otherwise noted.