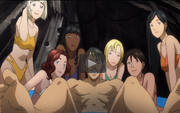 Bao (バオ, Bao) is the bartender and owner of the Yellowflag Bar.
Bio
He was a former ARVN soldier who fought in the Vietnam War. He often feels harassed by Lagoon Company, especially Revy, for messing up his bar whenever they get into a fight with another party and reminds Revy to pay for the damage she causes, which she always avoids doing. Balalaika seemed to cover the repairs after Roberta destroyed it, which implies that the bar may be owned by Hotel Moscow.
After the bar is rebuilt, Bao called the Lagoon Company to tell them that Roberta is back in town. When Revy and Rock arrive along with a Colombian Cartel leader named Gustavo, they all meet up with Fabiola Iglesias. After some words, Revy instigates a fight between Gustavo and Fabiola leading once again to the destruction of the bar. Bao claims that his bar has been destroyed more than 15 times, most of it done by Revy.