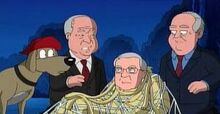 Barney Frank (born March 31, 1940) was the United States House Representative for Massachusetts's 4th congressional district from 1981 until 2013. He is a member of the Democratic Party.
In "Peter-assment", Peter Griffin mentions having a body structure similar to that of Frank.
In "Excellence in Broadcasting", Hot Dog, a parody of Scooby-Doo, John McCain and Rush Limbaugh solve a mystery where Congressman Frank is the monster behind the mask.