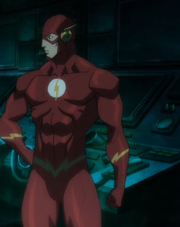 In his World he is a hero named The Flash. He is a member of the Justice League.  
History
As a child, grandmother taught me a prayer. Accept what you can not change. Have the courage to change what you can. And wisdom to know the difference.
Trivia
He doesn't like Batman.
He is best friends with Hal Jordan.
Superpowers
Speed Force: The Speed Force allows the him to bend the Laws of Physics using Super Speed.
The Speed Force helps him Heal.
Time Barrier: According to Barry another Speedster is co opting the Speed Force co opting me from accessing enough energy to Time Travel.
Equipment
Flash Ring
His Suit is Friction Proof.
Appearances
Justice League: The Flashpoint Paradox
Screenshots