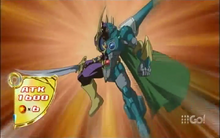 Once per turn, you can inflict damage to your opponent equal to half this card's ATK. If this card is destroyed by battle, and all the Fusion Materials that were used for its Fusion Summon are in your Graveyard: You can Special Summon all of them.
Trivia
This is a Fusion upgrade to "Panther Warrior" which has its ATK and DEF inverted.
Community content is available under
CC-BY-SA
unless otherwise noted.