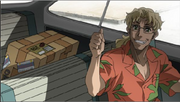 Benny is a college dropout from a Florida university where he studied until getting into trouble with the FBI and the mafia, and would have ended up dead if Revy had not saved him.
Benny works as the Lagoon Company's mechanic, computer specialist, and researcher. He also functions as the Lagoon's driver, and appears to be the owner of the 1969 Dodge Coronet R/T (with a 1969 Plymouth Roadrunner side-scoop hood) that Lagoon Company travels around Roanapur in. He is Jewish, or at least of Jewish descent as he puts it, and is often called "Benny-Boy" by Dutch. Benny joined the Lagoon Company two years before Rock, after Revy rescued him. Benny has an easygoing and non-violent personality: He readily admits to Rock that the two of them are not gunfighters in any way, shape, or form. Unlike Rock, however, Benny is willing to turn a blind eye to Revy and Dutch's more violent methods. Benny also tends to be possessive of his computers, and will not let anyone else touch them. In the second season, he met Greenback Jane, and, after impressing her with his computer abilities, began an online relationship with her. Jane returns to Roanpur following the teams completion of the Lovelace Incident and Benny meets up with her.
Community content is available under
CC-BY-SA
unless otherwise noted.