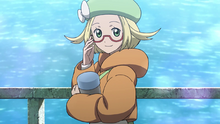 Bianca is a character appearing in Black Version 2 and Pokémon White Version 2 Animated Trailer.
Appearance
Bianca sports red glasses, a low white V-neck top with a black top underneath, short green jogging bottoms, a green cross over bag, orange shoes with black soles and bows, green beret with a white bow and orange coat, due to the recent coldness in Unova. Bianca also has a green purse, which she wears on her right hip over her left shoulder.
Personality
Bianca is a cheerful girl who is happy to meet new trainers, starting their journey.
Biography
Bianca was waiting for Nate and Hugh in the outskirts of Aspertia City. When Nate and Hugh arrived, she was happy that they were able to meet and she then opened the case to let Nate and Hugh choose their Pokémon.
Community content is available under
CC-BY-SA
unless otherwise noted.