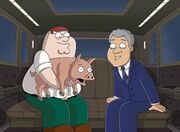 William Jefferson "Bill" Clinton
 (born 
William Jefferson Blythe III
, August 19, 1946) is the former 42nd President of the United States and served from 1993 to 2001. His wife,Hillary Rodham Clinton, is the 67th and former United States Secretary of State. Later he was impeached for perjury and obstruction of justice in connection with a scandal involving a White House intern, but was subsequently acquitted by the U.S. Senate.
His drunkenness was the cause for Peter Griffin's large welfare check in "Death Has a Shadow".
He grabbed his wife's boobs when he realized that the world was being blown up as a result of Y2K malfunctions at the turn of the millennium in "Da Boom".
He also approved the U.S. attack on Petoria in "E. Peterbus Unum".
He sang "This is One Fine Day to Be Nude" in "You May Now Kiss the...Uh...Guy Who Receives" before being egged by Chris Griffin.
Glenn Quagmire, dressed as Clinton, parodies his admissions regarding his sexual relationship with White House intern Monica Lewinsky in "The Cleveland-Loretta Quagmire".
He and Peter spend a lot of time together in "Bill and Peter's Bogus Journey", until Bill seduces and sleeps with Lois and later, at the end of that episode, also with Peter. In this episode, he comes to cheer up Peter in the hospital with a little saxophone therapy after Peter hurt himself fixing Clinton's motorcade. Clinton also allowsMeg to take a cell phone picture of him, in which he sticks out his tongue and lifts his shirt to reveal a nipple piercing. He seems to do very well in Dance Dance Revolution.
He is depicted in a nude painting in the White House in "Lois Kills Stewie" during the Lois v. Stewie confrontation.
As revealed in the song "Republican Town" from "Excellence in Broadcasting", Republicans view him as a crazy Communist clown. He is seen with a dominatrix with the USSR flag behind him.
In "Halloween on Spooner Street", Clinton attends James Woods Regional High School's unofficial Halloween party and plays spin-the-bottle. He disguised himself as someone who looks like him.
Bill is mentioned in a joke told by a television comedian in "He's Bla-ack!".
Meg's friend Patty shows a strong dislike for Bill Clinton in "Our Idiot Brian".
Appearances
FG101 "Death Has a Shadow"
FG203 "Da Boom"
FG218 "E. Peterbus Unum"
FG425 "You May Now Kiss the...Uh...Guy Who Receives"
FG513 "Bill and Peter's Bogus Journey"
FG605 "Lois Kills Stewie" (painting)
FG904 "Halloween on Spooner Street"
FG1002 "Seahorse Seashell Party" (mentioned)
FG1220 "He's Bla-ack!" (mentioned)
FG1308 "Our Idiot Brian" (mentioned)
Community content is available under
CC-BY-SA
unless otherwise noted.