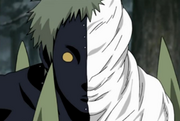 Write the first paragraph of your page here.
History
Black Zetsu finally locates the Feudal Lords' mansion and commences his attack. However, he is stopped by the Fifth Mizukage Mei Terumi and her squad. During the scuffle, Black Zetsu senses Naruto and Bee which he quickly conveys to Madara. At the coastline, Madara appears and summons the Gedo Statue to hold off his enemies while he goes after the Kohaku no Johei and the Benihisago to obtain Kinkaku and Ginkaku's Nine Tails chakra.
Jutsu
Write the second section of your page here.