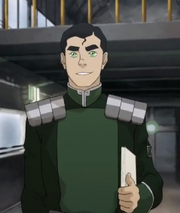 Bolin is an earthbender from a multicultural family. He grew up on the streets of Republic City under the protection of his older brother, Mako, after their parents were killed by a firebender. Eventually, he and his brother founded a pro-bending team, the Fire Ferrets, that would later include Avatar Korra. After the Pro-bending Tournament ended, Bolin joined Team Avatar in an attempt to stop the Equalist organization.
In the following months, Bolin quickly became close friends with the Southern Water Tribe industrialist Varrick and starred in The Adventures of Nuktuk: Hero of the South, a propaganda film series created by Varrick in an attempt to drum up support for the Southern Tribe within Republic City during the Water Tribe Civil War. After reuniting with Team Avatar, Bolin attempted to help his friends stop Chief Unalaq from merging with Vaatu, the spirit of darkness, during Harmonic Convergence.
A few weeks after Harmonic Convergence, Bolin and his friends traveled around the Earth Kingdom to search for airbenders. At one point, the group had to flee from Ba Sing Se and split up from Tenzin. They continued their search until the Red Lotus attacked Zaofu, at which point they instead worked to combat the anarchist organization.
After bringing down the Red Lotus, Bolin began a relationship with Opal and joined Kuvira in her goal of reuniting the divided Earth Kingdom with military force with the rank of corporal, believing it gave him the opportunity to help others. He eventually realized, however, that there was a darker side to the army's actions, which prompted him to desert, though he was apprehended. However, he managed to escape with Varrick, leaving the army to believe they were dead for a while, and rejoined Team Avatar in Republic City to help them defeat Kuvira, while rebuilding his relationship with Opal.