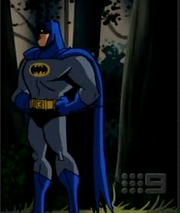 Batman from the Brave and the Bold Universe. 
Allies
Rogue Gallery
Teams
Skills
When Batman was fighting Owlman the Joker said "The real one will move he always does.".
Tools
Batmobile
In The Batcave Batman has a titanium alloy 7-pin, 8-cam lock, with only three layers of redundancy to keep only the most dangerous prisoners he has fought.
Spare Batmobile
The Batmobile is the fastest car on the planet.
We Find out that the Utility Belt has a lock mechanism that only Bruce Wayne can unlock.
Batmobile
Sleeping Gas
Batmen of the Multiverse
Trivia
Screenshots