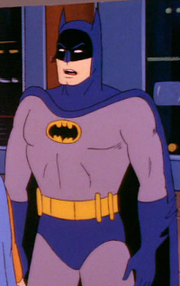 Bruce Wayne devotes himself to fighting crime as Batman after the murder of his parents in Crime Alley that he witnessed as a child. His partner Richard Gray son joins with him as members of the Super Friends in the role of Robin the Boy Wonder.
Abilities
Paraphernalia
Equipment
Transportation
Batmobile
Bat-Copter
Batboat
Batplane
Weapons
Batarangs
Notes
Over the course of the show, two actors voiced Batman:
Olan Soule for several seasons of Super Friends. Beginning with the show's debut in 1973 through 1983.
Adam West , who also played Batman in the live-action 1966 television series, took over the role with Super Friends: The Legendary Super Powers Show in 1984.