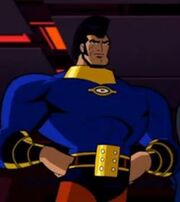 The original OMAC, Buddy Blank appears in the Batman: The Brave and the Bold episode "When OMAC Attacks" voiced by Jeff Bennett. OMAC battles Shrapnel in a long and destructive battle arranged by Equinox.[12] In this episode, Buddy did not know he was OMAC until Batman tells him his purpose. While OMAC handles Shrapnel, Batman interrogates and fights Equinox. Shrapnel is eventually brought to justice by OMAC and the previously clumsy Buddy Blank buys time for Batman to stop a nuclear meltdown by distracting Equinox after reverting from his OMAC form. In "The Power of Shazam," OMAC is among the heroes that got taken over by the Starros.
Community content is available under
CC-BY-SA
unless otherwise noted.