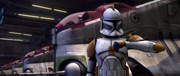 CC-2224, nicknamed "Cody," was a clone marshal commander assigned to High Jedi General Obi-Wan Kenobi of the Grand Army of the Republic throughout the Clone Wars.
The leader of the 7th Sky Corps, though he typically took personal command of the 212th Attack Battalion, Cody was a loyal and competent soldier who always followed his orders. He was a no-nonsense commander who was very skilled in tactics.
Weapons
After his additional training, Cody customized his armor, and wore several different versions. Early in the Clone Wars, he used a set of Phase I clone trooper armor that featured a visor, antennas, a small flood light, and orange stripes. Later, Cody was known to have worn at least two similar sets of Phase II armor. One featured two antennae coming from each of his oversized shoulder pads. With this set of armor, Cody also wore a holster on his belt that carried a small blaster pistol and a large jetpack. This set of armor also had orange stripes.
Cody's other set of Phase II armor had a slightly different orange striped paint job, as well as two gray stripes coming down the sides of the top of his helmet. This set of armor also had a small tool attached to the upper arm piece, only one antenna on the shoulder pads with one on the back of his helmet, and a smaller, oval shaped jetpack. Also, Cody has Imperial-like rank markings adorning the left side of his breast-plate.
Behind the Scenes
Commander Cody, along with every other clone, was played by Temuera Morrison—the same actor who played Jango Fett—in Attack of the Clones, Andrew Chaikin in the Revenge of the Sith video game, André Sogliuzzo in the Star Wars: Clone Wars cartoon, and Dee Bradley Baker in Star Wars: The Clone Wars.
Cody's name is a tribute to the film serial character Commando Cody, also known as the Rocket Man, hence his jetpack.
In LEGO Star Wars: The Video Game, Cody assists Obi-Wan Kenobi in confronting Grievous. In the end, Cody's blaster is knocked out of his hand by Grievous, who subsequently kills Cody. Kenobi uses the fallen trooper's blaster to kill the General, though in the movie, Cody was nowhere near Grievous and Obi-Wan's battle, as he was leading the troops in the battle and Obi-Wan killed Grievous with his own blaster. Cody's appearance in the game is also used for all the other clone commanders that appear in the game.
In The Clone Wars first season episode "The Hidden Enemy," Cody is mistakenly referred to as a captain by Kenobi, due to a script change in which Kenobi was originally talking to Captain Rex.