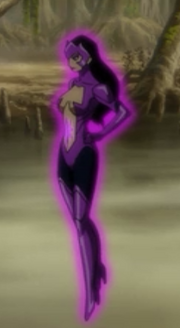 Carol Ferris is the only child of the aerospace mogul, Carl Ferris. She proved herself to be a successful businesswomen and became the family company's Vice President. Ferris mostly handles day to day affairs of Ferris Aircraft. The Zamarons chose Ferris to be the host body for their queen and gave her the Sapphire Gem. However, the gem's power overrides Ferris' personality and magnifies her inner turmoil - mainly her romantic issues with Hal Jordan.
Using a plan given to her by Vandal Savage, Star Sapphire lured Green Lantern into a salt mine filled with synthesized Fear Gas under the guise several workers were being held hostage by a militia group called the Identity Brotherhood, who in fact were all sophisticated androids. The entire scenario was designed to make Green Lantern believe he made the wrong call and got innocent civilians killed. In the rematch, Green Lantern knocked her unconscious with a giant sling shot construct. He caught as she free falled and removed the Sapphire Gem.
Screenshots
Community content is available under
CC-BY-SA
unless otherwise noted.