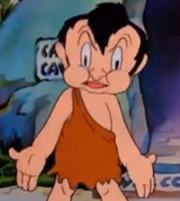 Casper Caveman was a caveman who attempted to have Daffy for Dinner. He is accompanied by his pet dinosaur Fido.
Appearances
Casper appeared in Daffy Duck and the Dinosaur where he attempted to eat the duck, because he was out looking for food. At the end however he wound up dead in heaven (because of an explosion).
Trivia
He is a caricature of Jack Benny.
Voices
He was voiced by Jack Lescoulie who is a longtime Jack Benny impersonator, and later by Tom Kane (1990-present).