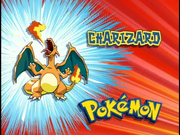 Charizard (Japanese: リザードン Lizardon) is a dual-type Fire/Flying Pokémon.
It evolves from Charmeleon starting at level 36. It is the final form of Charmander. It can Mega Evolve into two forms: Mega Charizard X using Charizardite X and Mega Charizard Y using Charizardite Y.
Charizard is the game mascot of Pokémon Red and FireRed Versions.