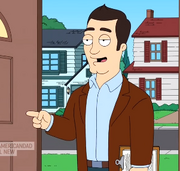 Charlie Greenfield is the executive producer of Morning Mimosa, a morning talk show in which the hosts Trish and Suze get drunk on mimosas and encourage their audience to do the same as well, causing them to become cruel to the guests.
In "Morning Mimosa", he invites Steve to appear on the show after he poses as an orphan and becomes a celebrity chef with a series of cooking videos after being forced to fend for himself after cursing at Francine. In addition, Charlie mistakes the Smith home as an orphanage. After subtly hinting that Steve may be in over he head, Steve tries to bolt after really learning about how cruel the show can be, only to be taken onstage by Charlie. When Steve's nervousness causes him to make the wrong dish, he blows his coverage as an orphan, which results in Suze punching Charlie for not doing a better job of fact-checking. When the ladies demand he lock the doors so they can take revenge on Steve as well as Francine who arrives and insults them, he begs them not to.
Charlie is voiced by Will Forte.