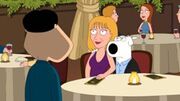 Cheryl Rae Tiegs (born September 25, 1947) is an American model and actress.
In "Emission Impossible" a poster of Cheryl Tiegs can be seen in Quagmire's house when Chris completes the scavenger hunt.
In "The Perfect Castaway", while stuck on the island and given the choice of being blind or a midget, Quagmire muses that if he were blind, every woman he ever did would be Cheryl Tiegs.
In "Jerome Is the New Black", it is revealed that she was once in a serious relationship with Quagmire. When that relationship dissolved, the emptiness he felt led him to become the sex-crazed man his neighbors know him as today.
In "And Then There Were Fewer", Quagmire revealed that it was James Woods who stole Tiegs from him, which incited Quagmire to hate James Woods all his life.
This romance with Quagmire will lead to her appearing in "Tiegs for Two" when Brian uses her to get even with Quagmire for ruining his chance at a relationship. Quagmire retaliates by taking Jillian out to the same restaurant for dinner but both girls leave when Brian and Quagmire start fighting.
In "Valentine's Day in Quahog", Stewie gathers scores of Brian's former girlfriends including Cheryl to get to the bottom of why he's unsuccessful in love.
Appearances
FG311 Emission Impossible (poster)
FG412 The Perfect Castaway (mentioned)
FG807 Jerome Is the New Black (mentioned)
FG901 And Then There Were Fewer (mentioned)
FG914 Tiegs for Two
FG1112 Valentine's Day in Quahog