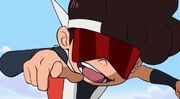 The third Dandy shown, Comic Book Dandy has a somewhat childlike appearance and moves and behaves in a way reminiscent to how the real life Michael Jackson did on stage.
His "mission" is to collect all eight heroes with star birthmarks in order to defeat the "Demon King". Since the regular Dandy has a star on his jacket, Comic Book Dandy mistakes him for one of the eight heroes until Comic Book QT says they could be the Demon King's henchmen and are there to steal their "Miracle Heartfold Balls".
Comic Book Dandy also believed the regular Meow is the "second cousin, twice removed" of the Demon King's "Blackcat" henchman. As a result, he proceeds to attack the Aloha Oe crew.
It is possible that the eight heroes with star birthmarks is a nod to the long running manga series JoJo's Bizarre Adventure as all eight "JoJos" have a star shaped birthmark. It is also possible that the collection of these "Miracle Heartfold Balls" with star indications and the cloud he flies on is a comparison to the flying nimbus which are a slight reference to the manga and anime saga Dragon Ball.
Community content is available under
CC-BY-SA
unless otherwise noted.