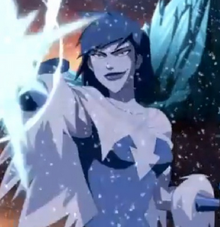 History of character has not yet been written.
Powers and Abilities
Powers
Notes
This version of the character is exclusive to the continuity of the television series Young Justice and its tie-in comic book series. It is an adaptation of Crystal Frost/Killer Frost. The original character was created by Gerry Conway and Al Milgrom and first appeared in Firestorm #3.
Killer Frost was voiced by Sarah Shahi for the series and Vanessa Marshall for the video game.