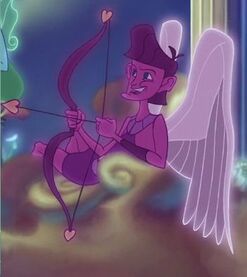 In this episode, it was revealed that originally Cupid was originally intended to be the God of War while Ares was going to be God of Passion, however due to Cupid's inability to even pick up a sword and Ares' violent nature, Zeus changed his mind and switched their positions thus giving Cupid his true purpose.
Hercules and the Bacchanal
When Hercules needed to raise Phil's Island from the bottom of the sea after Poseidon sunk it he made a deal with Poseidon to bring him some eye cream in exchange for raising the island, in order to do this he visited the multi-eyed monster Argus Panoptes who lives at the foot of Mount Olympus as he possesses large quantities of the cream, but Argus wants one of Cupid's love arrows so he can get a date for Saturday night. Cupid however wants to exchange his arrows for something that will help him forget Aphrodite's annoying theme song so Hermes suggested to give him some Lethean water from the Pool of Forgetfulness, and through a series of misadventures Cupid finally receives his water and forgets Aphrodite's cursed theme song, sadly he also forgets and realizes with some shock and humiliation that he wears a diaper.
Hercules and the Comedy of Arrows
When Icarus wants to break up Cassandra and Melampus, he steals one of Cupid's defective loathe arrows to make her hate Melampus.