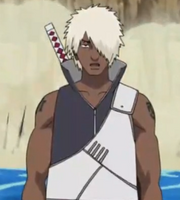 He is a member of the Allied Shinobi Forces. He leads the First Company as Captain.
Super Powers
His Gale Style is a combination of Lightning, and Water Chakra.
Jutsu
Lightning Style: Black Lightning
Trivia
Captain Darui is the only person that the Third Raikage has allowed to get a Lightning Tattoo.
Screenshots