We're Getting Mutants in the MCU - The Loop
Play Sound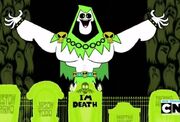 Death is a character who resides in a fortress in the Underworld. He makes his first (and only) appearance in Salty Codgers. Death is also Raven's godfather, as they both are demonic beings. He also refers to himself as the "Soul Collector".
History
Death, although he is usually perceived as an ominous, evil spirit, is actually quite friendly towards Raven, possibly because of their relations. He excitedly sings a song about being Death (and cleverly using the rhyme "breath"). He explains that he will only release the deceased souls of the other Titans if Raven sacrifices her own. Raven agrees without hesitation, and Death grants their souls to her. Death wants her soul in turn, but the only problem is that she doesn't have a soul because she's half-demon! Death, angry at getting tricked, yells out "RAVEN!" at the end of Salty Codgers.
Trivia
He is not to be confused with the Grim Reaper, who appears in Hey Pizza!.
It is unknown if he has any relations with either Grim Reaper, or Trigon.
Death is similar to Beetlejuice from his voice to the fact that they both work with souls and spirits.
Death apparently is fond of old people (like Raven) and he also enjoys playing pool.
References
One of the poses Death is in seems to be the moonwalk made famous by Michael Jackson.
The boatsman in the underworld is Charon, the ferryman of the dead from Greek mythology.
All of the tombstones in the song Last Breath reference DC characters known for being dead, from left to right read Boston Brand (a.k.a. "Deadman"), Jason Todd (the second Robin), Martha Wayne, Thomas Wayne (both of them are Bruce Wayne, also known as Batman's parents) and Zod (whose death in Man of Steel was the subject of much controversy.)