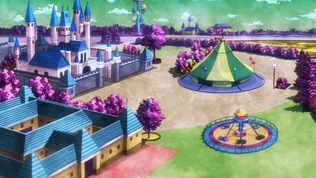 Death Thirteen
 (デスサーティーン(死神13) 
Desu Sātīn
), sometimes stylized as "
DEATH 13
", is the Stand of 
Mannish Boy
, an antagonist featured in 
Stardust Crusaders
.
ABILITY
Death Thirteen is unique in that it can only exist inside a dream world and thus requires that its victims are asleep. It is incredibly dangerous because it is certain to take people by surprise and it was only through chance that the Joestar Group survived its encounter. It is offset by the fact that the user, a baby at that, is defenseless when everyone is awake and cannot attract suspicion.
Dream World Control 
This ability comes in two parts. When anything alive (human or otherwise) falls asleep near Mannish Boy, Death Thirteen's User, they are drawn into Death Thirteen's dream world, which appears as a massive carnival, complete with Ferris wheels and roller coasters[4].
Death Thirteen has full control over this dream world. It is able to make death machines out of mechanical items, summon objects out of nothing, manipulate Polnareff's hair or Joseph's hand, basically shaping everything as it sees fit[5]. However, the most redoubtable property of this dream world is that Stand Users cannot summon their Stand inside the dream world and are defenceless[6]. Death Thirteen explains that because Stands are made of spiritual energy, during their sleep, their spirits are "off-guard" and cannot defend themselves, thus Users cannot conjure Stands[5]. However, someone who falls asleep (or unconscious) with their Stand active beforehand will be able to summon the Stand inside the dream world[7].
No one can willingly wake up from the dream world[3], but they can be normally woken up by someone else and thus saved temporarily[4]. When they wake up, the surviving victims won't be able to remember anything from the dream but will still feel the dread they've had, giving the impression of a nightmare[4]. Someone who has defeated Death Thirteen will remember the dream, however.[2].
In the dream world, Death Thirteen is free to torment and kill anyone inside the dream with its scythe. Any injuries the person receives in the dream world are transferred to the real world, including fatal ones[4]. Inversely, it can also heal wounds if coerced, thus healing Kakyoin's cuts[7], which transfers into the real world too.
If Death Thirteen is obliged to fight a Stand, it remains dangerous because of its mastery over the surrounding world, but is also very fragile and weak, relying on scythe sweeps to wound. Thus it was easily defeated by Hierophant Green[7].
Community content is available under
CC-BY-SA
unless otherwise noted.