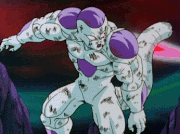 Death Saucer (追跡気円斬, Tsuiseki Kienzan[4] or 追尾気円斬, Tsuibi Kienzan;[1] lit. "Chasing Energy Circle Razor") is a chasing energy disk attack developed by Frieza. It is an improved version of Krillin's Destructo Disc technique. It is said that the Death Saucer is capable of slicing through anything.[5]
Community content is available under
CC-BY-SA
unless otherwise noted.