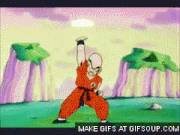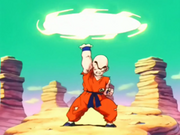 A technique invented by Krillin.
Power
Krillin uses this technique for the first time in the series against Nappa, but the Saiyan Dodges it thanks to Vegeta's advice, resulting in only a gash on his cheek. He tries the technique again shortly later, in an attempt to cut off Great Ape Vegeta tail, but Vegeta also manages to dodge it.
A few months later, Krillin uses the Destructo Disc against Gohan in their mental battle while on their spaceship heading to Namek.
Users
Amond
Community content is available under
CC-BY-SA
unless otherwise noted.