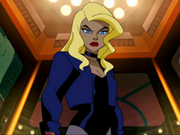 In the sequel series Justice League Unlimited, Black Canary was voiced by Morena Baccarin. She was first seen in a small cameo at the end of "Initiation", where her looks are enough to convince Green Arrow to stay in the League. She first appears as a main character in "The Cat and the Canary". She was vexed because her old mentor, Wildcat, had been obsessively engaging in underground fighting tournaments, and she convinced the smitten Green Arrow to help her convince Wildcat to return to the League. She and Green Arrow start a relationship, as seen in "Double Date", thereby paying homage to their famed romance in the comics. She also started a rivalry with Huntress.
Screenshots
Community content is available under
CC-BY-SA
unless otherwise noted.