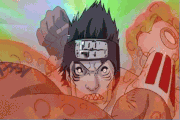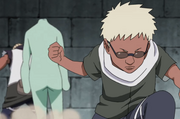 Two users both perform the Lightning Release: Lariat from both behind and in front of the opponent, creating a scissor effect. Both users must use the exact same amount of opposing strength or the target will merely bend.
[2]
 When successfully done, the force of the technique will decapitate the target and send their head flying several metres into the air.
Trivia 
As with many Kumogakure techniques, this technique has an English name given kanji that somewhat match the pronunciation. Usually, the kanji would be pronounced as Zetsugyū Rairi Nettō.
This technique is used as a test to see who will be worthy to become the Raikage's tag-team partner, as the potential candidate must be able to synchronise their strength with the Raikage. As such, this technique is feared even outside of Kumogakure.
Community content is available under
CC-BY-SA
unless otherwise noted.