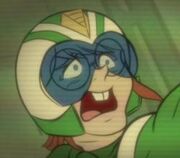 Dr. Blip
 is a character from Super Robo Mecha Force Five! a fictional anime show that the turtles watch. He has a crush on the
Princess
, and the two are suppose to represent 
April
 and 
Donatello
. 
Dr. Blip
 made Super Robo Mecha and pilots it's left leg. He is supposed to be the scientist of the team, as he represents 
Donatello
.
Like Crankshaw, also voiced by Menville, Blip gets slapped by the leader whenever he starts panicking.
He is voiced by Scott Menville
Community content is available under
CC-BY-SA
unless otherwise noted.