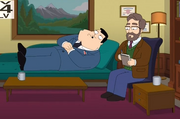 Dr. Ray Petit
 is the CIA therapist that 
Avery Bullock
 sends Stan to see after he is nearly involved in a fatal car crash in "The Shrink".
To help him cope, Dr. Ray introduces Stan to miniatures, but Stan takes it further, using a CIA shrink ray to reduce himself into the miniature world where it's all safe and protected. But after the family discovers him in his own little world, he shrinks them as well and shoves the shrink ray off the model out of reach.
As they reluctantly explore Stan's world, Roger enters the basement and spills a bottle on wine which attracts ants, who are further drawn to the food Stan has used to build parts of his model. As Stan and Francine try to escape, Dr. Ray arrives to help, but is killed and eaten by the ants.
Dr. Ray is voiced by Ted Danson.
Community content is available under
CC-BY-SA
unless otherwise noted.