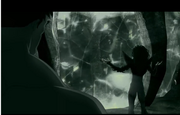 This is part of the Dream Dimension shaped by your Memories and Impressions.
The Dream Dimension can be disorienting.
You share a Conscious and the Dream Dimension operates by very different rules.
The Rules of Science do not apply in the Dream Dimension.
In the Realm of Dreams the Dreamer holds Power.
You can not simply cross over from the Dream Dimension. You must return to your physical forms. Walk the same path you arrived. Otherwise there will be dire consequences.
In this Dimension Nightmares Power is limitless.
Natives
Visitors
Screenshots
Community content is available under
CC-BY-SA
unless otherwise noted.