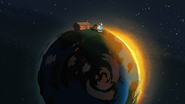 Dwarf Terrace-9 is a dwarf Earth-like planet with a circumference of 600 yards. It was home to a species of tiny pigs, which were hunted to extinction by the Smiths for breakfast. The Smith family moved there for a short period, having to stay off the Galactic Federation's radar. Morty noted that the main feature distinguishing it from Earth is the lack of Africa.
Known Inhabitants
Jerry Smith (former)
Beth Smith (former)
Summer Smith (former)
Morty Smith (former)
Rick Sanchez (former)
Mini pigs (Extinct)
Community content is available under
CC-BY-SA
unless otherwise noted.