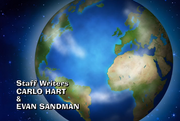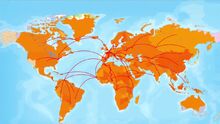 Quahog (pronounced "KO-hog") is a fictional city in Newport County, Rhode Island where the animated television comedyFamily Guy is set. The Griffin Family, the Brown family, the Swanson family, and Glenn Quagmire live on Spooner Street, with the Griffin family residing at 31 Spooner Street. The population of Quahog in "Tom Tucker: The Man and His Dream" is 800. The ZIP code, as revealed in "FOX-y Lady", is 00093. Peter's birth certificate in "Quagmire's Mom" gives the location as Newport County.
Family Guy
Aaron Burr,

Abraham, Abraham Lincoln (Family Guy), Adam Sandler, Adam West, Adam(American Dad), Adolf Hitler, Al Capone, Alec Baldwin, Alex Trebek, Alexis Radcliffe, Amanda, Amanda Barrington, Amy, Anakin Skywalker(Darth Vader) (Family Guy), Andy Garcia, Andy Samberg, Angel Peter, Angela, Anil Kapoor, Anna Lee Quagmire, Anthony(Family Guy), Antonio Monatti, Apache Chief, Arthur Curry(Aquaman) (Family Guy Universe), Assablanca Porn Star, Avery Bullock, Barack Obama (Family Guy Universe), Barbara 'Babs' Pewterschmidt, Barbara (The Peanut Butter Kid), Barney Frank, Barney Rubble, Barry Bonds, Barry Manilow, Bart Simpson, Basement Lois Griffin, Bender Bending Rodriguez, Bertram, Betsy LaBeau, Betty Rubble, Big Bird, Bill Clinton (Family Guy Universe), Bill Cosby, Bill Gates, Bill O'Reilly, Bitch-Brian, Bitch-Stewie, Black Diane Simmons, Black Meg Griffin, Bob Belcher, Bobby Briggs, Bobby Hill, Bobby Williams, Bonnie Franklin, Bonnie Swanson, Brenda Quagmire, Brian Griffin, Brian Griffin Clone(Roads to Vegas), Brian Griffin(Jack and the Beanstalk), Brian Griffin(Little Red Riding Hood), Brian Griffin(Pilot Universe), Brian Griffin(Roads to Vegas), Brian Griffin(Timeline 2), Brian Griffin(Y2K Universe), Brian Williams, British Stewie Griffin, Brooke Roberts, Brown Sugar, Bruce, Bruce Wayne(Batman) (Family Guy Universe), Bugs Bunny, Butter, Candy, Carey Mulligan, Carl, Carol West, Carolyn, Carter Pewterschmidt, Carter Redbush, Cary Elwes, Casper the Friendly Ghost, Cassandra(This Little Piggy), Charles Manson, Charlie, Charmisse Quagmire, Cheetara(Family Guy Universe), Cheryl Tiegs, Chewbacca, Chip Griffin, Chris Griffin, Chris Griffin(Pilot Universe), Chris Griffin(Y2K Universe), Chris Gronkowski, Chuggs, Cicillia, Cindi, Cindy, Cindy(Life of Larry), Cinnamon, Cleveland Brown, Cleveland Brown Jr., Cleveland Brown(Lois Kills Stewie), Cleveland Brown(Pilot Universe), Coat Check Woman, Cobra Commander, Connie D'Amico, Consuela, Cookie, Cookie Monster, Courtney Quagmire, Cousin Mary, Cybill Shepherd, Daffney Gilfin, Dan Cortese, Daphne Blake, Darth Stewie, David Letterman, Death, Death's Dog, Death's Mother, Deirdre Jackson, Denise(Tiegs for Two), Devil Peter, Dhiraj, Diana Prince(Wonder Woman) (Family Guy), Diane Simmons, Diane Simmons(Pilot Universe), Diane Simmons(Y2K Universe), Dick Cheney, Dog Joe Swanson, Dog Lois Griffin, Dog Meg Griffin, Dog Peter Griffin, Dog Stewie Griffin, Dog Tom Tucker, Donald Trump, Donna Tubbs-Brown, Dotty Campbell, Doug the Pimple, Dr. Amanda Rebecca, Dr. Bunsen Honeydew, Dr. Chip Fist, Dr. Elmer Hartman, Dr. Emmett Brown, Dr. Leonard Hofstadter, Dr. Sheldon Cooper, Dum-Dum, Dylan Flannigan, E.T., Elmer Fudd, Elmo, Elroy Jetson, Emperor Carter, Eric Trump, Ernest Hemingway, Ernie, Ernie Keebler, Ernie The Giant Chicken, Esther, Eva Braun, Eve(American Dad), Evil Stewie, Father O'Leary, Female Stewie Griffin, Ferris Beuller, Fidel Castro, Fozzie Bear, Fran, Francine Smith, Francis Griffin, Franz Schlechtnacht, Fred Flintstone, Fred Jones, Fred Rogers, Future Brian Griffin, Future Chris Griffin, Future Lois Griffin, Future Peter Griffin, Future Stewie Griffin, G.I. José, Ganesha, General Zod (Family Guy Universe), George H. W. Bush, George Jetson, George McFly, George W. Bush, George Washington (Family Guy Universe), Glenn Quagmire, Glenn Quagmire(Pilot Universe), Glenn Quagmire(Universe Without Christianity), Gloria Ironbachs, God, God's Girlfriend Janet, Godzilla, Goofy, Griffin Peterson, Guinevere, Gwyneth Kate Paltrow, Hadji, Hank Hill, Harelip Steve, Harriet Tubman, Harry S. Truman, Hawkman, Hayley Smith-Fischer, Helen Hunt, Henry Ford, Henry Kissinger, Henry VIII, Hillary Clinton, Holley (Road to Multiverse), Homer Simpson, Hooker, Horatio, Horton, Hot Meg Griffin, Howard Stern, Hulk(Family Guy Universe), Human Brian Griffin, Ida Davis Quagmire, Indiana Jones, Ivanka Trump, Jabba the Hutt, Jack Griffin, Jack the Ripper(Family Guy), Jackie Chan, James Woods, Jane, Jane Jetson, Janice, Japanese Chris Griffin, Japanese Glenn Quagmire, Japanese Lois Griffin, Japanese Meg Griffin, Japanese Peter Griffin, Jared Kushner, Jay Leno, Jeanine, Jeb Bush, Jeffery Fecalman, Jenna Jameson, Jenna(Family Guy), Jennifer Love Hewitt, Jennifer Parker, Jenny, Jenny Curran, Jerome, Jerry Seinfeld, Jess Schlotz, Jesse Jackson, Jessica Biel, Jesus Christ, Jillian Russell-Wilcox, Joan Quagmire, Joe Swanson, Joe Swanson(Y2K Universe), Joe's Mom, John Herbert, John Hinckley Jr., John McCain, John Wilkes Booth, Johnny & Louie, Johnny Depp, Johnny(Family Guy Universe), Jon Hamm, Jonathan Weed, Jonny Quest, Joseph Smith, Joyce Kinney, Judy Jetson, Kal-El(Superman) (Family Guy Universe), Karen, Karin Parotta, Kate, Kathy Griffin, Katie Holmes, Kermit the Frog, Kevin Swanson, Kim Jong-il, Kim Jong-un, Kimi, King Arthur Griffin, King of Denmark Griffin, King Stewart III, Klaus Heisler, Kool-Aid Man, Kurt Cobain, La Toya Jackson, LaDawn, Lady Redbush, Larry Ruckerschwartzen, Larry(Steve and Larry Shorts), Lauren Conrad, Lee Harvey Oswald, Legs Go All The Way Up Griffin, Lenny Kravitz, Lindsay Lohan, Lisa, Lisa Simpson, Lizzy Caplan, Lois Griffin, Lois Griffin(British Universe), Lois Griffin(Jack and the Beanstalk), Lois Griffin(Pilot Universe), Lois Griffin(Universe Without Christianity), Lois Griffin(Y2K Universe), Lois Joanne Lane-Kent, Lois Laura Bush Lynne Cheney Pewterschmidt, Lois Quagmire, Loretta Brown, Loretta Brown(Y2K Universe), Lorraine McFly, Louis XVI, Luanne Platter, Luke Perry, Luke Skywalker, Madame Claude, Magic Clam, Maid Madeline, Malcolm X, Margaret, Marge Simpson, Marley, Marty McFly, Mary Poppins, Mary Todd Lincoln, Max & Ken, Meg Griffin, Meg Griffin(Pilot Universe), Meg Griffin(Y2K Universe), Meg Peterson, Meg Quagmire, Megan Fox, Melania Trump, Michael Eisner, Michael Jordan, Michael Palin, Michelle Obama, Mickey McFinnigan, Mike Pence, Mike Tucker, Miles "Chatterbox" Musket, Miley Cyrus, Minnie Mouse, Mirror Peter Griffin, Miss Emily, Miss Piggy, Misty (Family Guy), Molly Ringwald, Mordecai the Dancing Yiddish Clown, Mort Goldman, Mort Goldman(Jack and the Beanstalk), Mort Goldman(Road to Germany), Mort's Girlfriend, Moses, Moses Griffin, Mr. Moose, Mr. Tumnus, Mrs. Donovan, Mrs. Quagmire, Muammar al-Gaddafi, Mumm-Ra, Muriel Goldman, Nancy Pelosi, Natasha Romanoff(Black Widow) (Family Guy Universe), Nate Griffin, Nathaniel Hawthorne, Neil Goldman, Nelson Mandela, Neptune, New Brian, Nicole, Nien Nunb, Nigel Pinchley, Nikita Khrushchev, Nikola Tesla, Noel, Non, Nora, Nyota Uhura, Optimus Prime, Osama Bin Laden, Osias Griffin, Other Meg, Padma, Pam, Pam Fishman, Pamela Anderson, Pat Sajak, Patrick Duffy, Patrick Star, Patty, Paul Revere, Penny, Pervert Squirrel, Peter Griffin, Peter Griffin(British Universe), Peter Griffin(Pilot Universe), Peter Griffin(Y2K Universe), Peter Hitler, Peter Parker(Spider-Man) (Family Guy Universe), Popeye the Sailor Man, President Douchebag, President McCheese, Prince Charming Griffin, Prince Vultan, Princess Ariel, Principal Shepherd, Principessa, Puerto Rican Girl, Quagland, Quagmire's Kids Mom, Quagmire's One-Night-Stand, Rallo Tubbs, Ranita, Retep Griffin, Rick Moranis, Ricky, Rita, Rob Gronkowski, Robert Tubbs, Roberta Tubbs, Rock Lois Griffin, Rock Peter Griffin, Roger Smith, Roger Stone, Ron Griffin, Ronald Reagan, Ross Fishman, Rumpleforeskin, Rupert, Rush Limbaugh, Ruth, Saddam Hussein, Sam (Family Guy), Sam(To Love and Die in Dixie), Samuel L. Jackson, Sandman, Sandra (The Dating Game), Sandy (Valentine's Day in Quahog), Sandy Belford, Sarah (Family Guy), Sarah Sanders, SassyGirl89, Satan(Family Guy Universe), Scarlett Johansson, Scooby-Doo, Scooter, Scott Greenberg, Seamus Levine, Sean Hannity, Seth MacFarlane, Shaggy Rogers, Sharon Stone, Shirley Blitt, Sindy, Smitty (No Giggity, No Doubt), Smitty's Wife, Smurfette, Soccer Mom, Sock Lois, Sonja, Speed Racer, SpongeBob SquarePants, Squeaky, Stan Smith, Stephen Hawking, Steroid Bees, Steve Allen, Steve Buscemi, Steve Smith, Stewie Griffin, Stewie Griffin (Stewie Kills Lois/Lois Kills Stewie), Stewie Griffin Clone(Roads to Vegas), Stewie Griffin(Brian Dies Timeline), Stewie Griffin(Christmas Guy), Stewie Griffin(Jack and the Beanstalk), Stewie Griffin(Pilot Universe), Stewie Griffin(Timeline 2), Stewie Griffin(Timeline 3), Stewie Griffin(Y2K Timeline), Stewie Quagmire, Sugar, Super Devil, Sussie Swanson, Tanya, Tapeworm, Tasheka, Taylor Swift, Ted Turner, Thaddeus Griffin, The Count, The Great Gazoo, The Grinch, The Pawtucket Patriot, The Pope, The Screaming Black Dolphins, The Virgin Mary, Thomas Edison, Thomas Jefferson, Tiffani Thiessen, Tom Brady, Tom Cruise, Tom Tucker, Tom Tucker(Y2K Universe), Tony Robbins, Tony the Tiger, Toucan Sam, Tracy Flannigan, Tricia Takanawa, Tricia Takanawa(Y2K Universe), Twinkee the Kid, Two-Headed Lois Griffin, Two-Headed Peter Griffin, Two-Headed Stewie Griffin, Tyler, Ulysses S. Grant, Ur-Lois Griffin, Ur-Peter Griffin, Ur-Stewie Griffin, Ursa, Vanessa Griffin, Vanna White, Velma Dinkley, Vern, Victoria Principal, Victorian Girl Ghost, Vincent Van Gogh, Vinny Griffin, Vishnu, Vladimir Putin, Walt Disney, William Shakespeare, William Shatner, Wilma Flintstone, Winston Churchill, Woody Allen
Community content is available under
CC-BY-SA
unless otherwise noted.