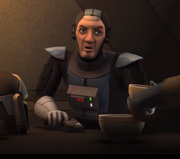 Fenn Rau was a male Mandalorian who served as Skull Leader during the Clone Wars and, after the rise of the Galactic Empire, as the leader of the Protectors of Concord Dawn approximately three years before the Battle of Yavin. During the Clone Wars, he and his fellow Protectors fought alongside the Galactic Republic and the Jedi Order. Rau supported the Republic's successor government, the Empire, who tasked him with keeping a watch over the Concord Dawn system for rebel activities. This brought him into conflict with the Phoenix rebel cell, attempted to seek safe passage through the system in order to travel to the Lothal sector. After Rau attacked Hera Syndulla's diplomatic mission, her rebel comrades Sabine Wren and Kanan Jarrus launched a retaliatory attack which ended with his capture by the rebels.
In captivity, Rau ordered his Protectors not to rescue him and to give the rebellion free passage through the Concord Dawn system. For the next year, Fenn Rau remained a captive of the rebellion. After the rebellion lost contact with the Protectors, Rau was sent on a recon mission to Concord Dawn to investigate the Protectors. There, he along with the rebels Wren, Ezra Bridger, and C1-10P discovered that his nemesis Imperial Viceroy Gar Saxon had killed the Protectors. Rau was forced to work with his nominal enemies to escape Saxon and his Imperial Super Commandos. Due to his respect for Wren's devotion to her rebel comrades, Rau decided to join the rebellion.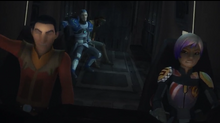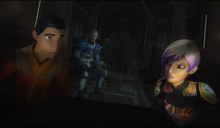 Screenshots
Community content is available under
CC-BY-SA
unless otherwise noted.