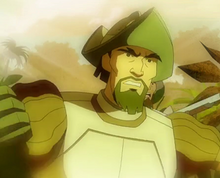 During an expedition, his men discovered a crystal sarcophagus filled to the brim with black pearls. El Aguirre and his men decided to take the treasure aboard and sail home with it. Over time, however, an evil presence about the sarcophagus twisted the minds of the conquistadors, driving them to destroy entire villages in search of gold and jewels. El Aguirre was finally able to fight the evil's influence and made for a cove on the mission coast. He and his men used their Planispheric Disk to chart a course to the hiding place where they buried their cursed treasure, particularly the sarcophagus, and then divided the disk into six pieces, which he proceeded to scatter in an attempt to prevent anyone from ever finding the treasure and awakening the evil in the sarcophagus. The Conquistadors renamed the cove "Crystal Cove" because of what they had hidden there.[1]
He looked after one of the pieces of this disc, and hid it on his ship, which he caused to be carried high into the mountains and filled with mechanical traps.[1]
While Mystery Inc. were leaving the ship's wreckage after it tumbled from the mountain, El Aguirre's ghost appeared and announced the word Nibiru as he watched them disappear.[2]
The mummified Friar Serra explained that he met El Aguirre. The Conquistador left two pieces of the Planispheric Disk, which Friar Serra took. One ended up on the bottom of the ocean when the original missionary settlement sank. Friar Serra hid the second piece inside a cheese.[3]
Insert details here. (Nightmare in Red)
AppearancesEdit
Scooby-Doo! Mystery Incorporated

208. Night on Haunted Mountain (flashback and real ghost in present)
215. Theater of Doom (flashback)
221. Nightmare in Red (dream)
Notes/triviaEdit
He named the location he visited as Crystal Cove
He was the first to know of the Curse of Crystal Cove.
El Aguirre's name is probably a reference to the 1972 Werner Herzog film Aguirre, The Wrath of God about a conquistador on a mad search for El Dorado.