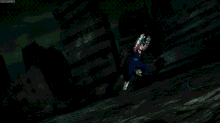 Final Kamehameha (ファイナルかめはめ波, Fainaru Kamehameha) is a combination of Goku's Kamehameha and Vegeta's Final Flash used by Vegito. The move can also be created when Goku and Vegeta combine the Super Kamehameha and the Final Flash simultaneously.[6] This is the first and so far the only move to be introduced in video games that later appeared in the main series.
Community content is available under
CC-BY-SA
unless otherwise noted.