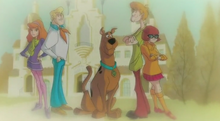 Frederick "Fred" Jones, Jr. is the leader of Crystal Cove's newest incarnation of Mystery Incorporated.
Physical appearance
Fred is a tall, muscular, Caucasian teenaged male, with blond hair. He's noted for his big chin.[3] He wears a white sweater over a blue shirt, blue pants, brown shoes and a red ascot.
Personality
Fred has an intense love for mystery solving and building traps. His love for traps usually distract him from noticing anything else, such as his feelings for Daphne. Velma doesn't think he's very deep [4], meaning he doesn't seem to think about anything too carefully, almost always leading to trouble. Early on, Fred seemed almost clueless of Daphne's feelings thinking only about traps and staying friends with the gang as long as they live, much to Daphne's dismay. Finally, Fred asked Daphne on a date to the Trap Exhibit.
His discovery that his life had been a lie has profoundly affected him, leaving him in a deeply emotional state and forced him to search for his biological parents soon after he "made a new start" by breaking his engagement with Daphne and declaring "Mystery Incorporated is dead."
When Fred returned to Crystal Cove he immediately tried to get Daphne back, but much to his dismay Daphne was in a relationship with Baylor Hotner. Fred kept on attempting to win Daphne back but all his attempts failed. To fill the void, Fred grew a strong attachment to one of his teddy bears (Mr. Trapples) talking to it as if it were real. (Mr. Trapples is a play on Fred's hobby: trap-making). (The House of the Nightmare Witch)
History
Early life
Brad and Judy, two members of the original Mystery Inc., married and had a baby boy. Brad tried to come back to Crystal Cove, but Mayor Jones wanted to stop him, so he took the baby as ransom and said no harm would come to him as long as they stayed away. Mayor Jones gave the baby the false name of "Fred Jones, Jr." and showed him a picture cut from a magazine that was supposed to be his mother who left when he was just a little baby.
Insert details here. (The Legend Of Alice May)
Scooby-Doo! Mystery Incorporated
Season one
Insert details here. (Beware the Beast from Below)
Season two
Fred travelled on foot, town to town, to find his real parents. He grew a full beard and wore out his clothes. He was recruited by Shaggy and Scooby to return to Crystal Cove to defeat the Crybaby Clown.[5]
Appearances
Scooby-Doo! Mystery Incorporated
Screenshots