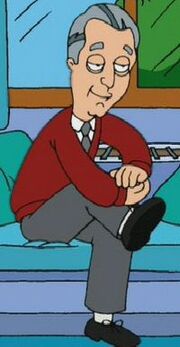 Fred McFeely Rogers (March 20, 1928 – February 27, 2003) was an American educator, Presbyterian minister, songwriter and television host. Rogers was the host of the television show Mister Rogers' Neighborhood, which ran from 1968 to 2001.
He was known for his gentle demeanor and his ability to communicate with an entire national audience of young viewers as if he were interacting with them one-on-one.
In "Brian in Love", Stewie Griffin dreamed that he murdered all the residents of the neighborhood of Make-Believe, burning it to the ground and shooting Mr. Rogers with his laser gun in the process. He woke up from this dream to find Lois Griffin watching him. She then removes her mask to reveal Mr. Rogers, who begins to strangle him. He then woke up, relieved, realizing it was a dream-within-a-dream.
In "Running Mates", he spies on his attractive blonde neighbor through his window, greeting her with "Hello Neighbor" as he did at the beginning of every episode of his show.
In both of his appearances, he is voiced by Mike Henry.
Community content is available under
CC-BY-SA
unless otherwise noted.