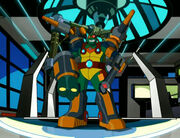 In this series,
Michelangelo
, along with his brothers, traveled into the year 2105 and met the great-grandson of
April
and
Casey
, 
Cody Jones
. Mikey continued his video gaming in the future, completely awestruck by the new video games, especially since most of the games were virtual reality pieces. When the Turtles and
Master Splinter
reached the future, they were provided with tech-upgraded weapons, courtesy of O'Neil Tech (which Cody owns). Michelangelo first chose a giant power armor suit, which kept Mikey happy for five seconds before he found out that it was too cumbersome for him to operate; so he returned to his (though upgraded) nunchaku standards.
Overall, Michelangelo continued being the obnoxiously annoying little brother. He kept his addiction for video games and it even increased and he became even more obsessed with them, which proved to be a hazard during Graduation Day: Class of 2105 which almost got him to not graduate as he missed a month's worth of training just for playing video games. He made up for it, however, when he passed the three tests to graduate and got back his nunchucks: Invisibility (where the first handle bar was guarded by Leonardo), Strength (where the second handle bar was guarded by Raphael), and Insight (where the chain was guarded by Donatello). He also passed the hidden test of humility after admitting that he did not deserve to graduate just because he passed three tests after missing so much training.
Community content is available under
CC-BY-SA
unless otherwise noted.