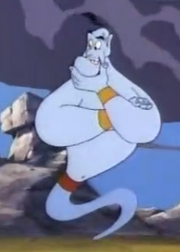 He is the Genie of Aladin. 
Super Powers
Clean Stains on Clothes  
Eternity  
Grows Hair  
He can smell Electromagnetism.  
Mastery of the Space Time Continuum  
The Strength of 1000 teamsters in one little finger.  
Knowledge of the Future
DJ 
He knows about the whole in the Ozone. 
He knows the History of Lightning
Discovery of Electricity. 
Limbo 
Inventions of the Future
Airport Limo Camel: It gets you to the Airport Hundreds of years before it existed.
Electric Shaver
Lightning Conductor
Tesla Coil
Community content is available under
CC-BY-SA
unless otherwise noted.